Thursday 21 June 2018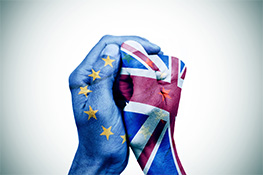 The RDF Industry Group launched a lobby paper regarding Brexit, the "Brexit Briefing Note". RDF exports are very important in many respects. It represents an industry worth GBP 0.5 billion annually, saves 700,000 tonnes of CO2e emissions annually and adds flexibility to the UK's residual waste treatment options.
Robert Corijn, Marketing Manager at Attero, is currently chair of the RDF Industry Group: "We would like to express the importance of continuing RDF exports unhindered after Brexit. This can be achieved by maintaining the legislative framework, ensuring that customs processes do not cause delays, and ensuring a 0% tariff applies for importing RDF".
One topic that is hard to influence for Attero is the challenge that the British Customs is likely to face.
The Dutch Customs are hiring additional people and have a proper ICT-system to handle additional work. As far as we know the British Customs is lagging behind on these two issues.
Attero is already in contact with different authorities to work on a smooth transition for RDF exports after Brexit. Please read the Brexit Briefing Note and help spread the word.